Kondensaatorid
Kondensaatorid jagunevad oma ehituse järgi kolme rühma –
1. Kile- (levinumad dielektriku materjalid on: polüester, polükarbonaat, polüpropüleen, polüstüreen – ing. (plastic) film capacitor),

2. Keraamilised- (madala dielektrilise konstandiga ehk klass 1 ja suure dielektrilise konstandiga ehk klass 2 – ing. ceramic capacitor)

3. Elektrolüütkondensaatorid (alumiinium- ja tantaal elektrolüütkondensaatorid – ing. aluminium and tantalum electrolytic capacitors).
Elektrolüütkondensaatorid on polaarsed! Korpusele märgitakse harilikult kumb väljaviikudest on
negatiivne.
Lisaks ka muudetava mahtuvusega kondensaatorid.
Ka need komponendid on tootevalikus pindliitemontaaøiks arendatud.
Allpool vaatleme näidistena erinevaid SMD kondensaatoreid.
47uF 35V Surface Mount Chip Aluminum Electrolytic Capacitor UWF1V470MCL1GS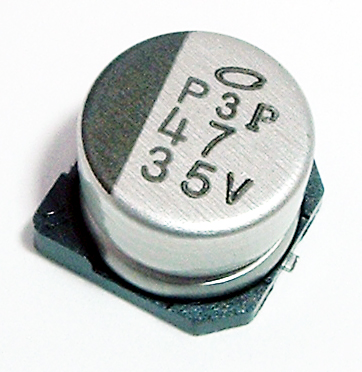 Foto ja tehnilised andmed aadressilt: http://www.westfloridacomponents.com/mm5/graphics/F02/UWF1V470MCL1GS.pdf
Mida oleks vaja osata sellise välimusega komponendilt ära tunda:
polaarsus - mustaks värvitud serv tähistab negatiivset (-) kontakti,

mahtuvus

maksimaalselt lubatav pinge?
Tootja: Manufacturer: Nichicon
Toote tellimisnumber Part Number: UWF1V470MCL1GS
Mahtuvus 47 mikrofaradit Capacitance (uF): 47
Lubatud pinge 35 V Voltage: 35
Täpsus 20 protsenti Tolerance (%): 20
SMD montaaz Lead/Terminal Type: Surface Mount
Lubatud maksimaalne temperatuur 105 kraadi Temperature: 105
Pliivaba tehnoloogia RoHS Compliant: Yes
Alumiinium SMT elektrolüüt kondensaator SMT Aluminum Electrolytic Capacitors
WF Series
Specifications:
Capacitance: 47.0uf
Voltage: 35.0V
Tolerance: 20%
Temperature: 105°C
Impedance @ 20°C 100KHz: 0.8Ω
Rated Ripple @ 105°C 100KHz: 150mA
Gabariidid Dimensions:
Aluspind 8,3 x 8,3 mm Platform: 8.3mm x 8.3mm
Diameeter 8,0 mm Diameter: 8.0mm
Kõrgus 6,2 mm Height: 6.2mm
Manufactured by: Nichicon
Part Number: UWF1V470MCL1GS

1uF 63V Surface Mount Aluminum Electrolytic Capacitor 2222 085 68108
Foto ja tehnilised andmed: http://www.westfloridacomponents.com/mm5/graphics/F09/222208568108.pdf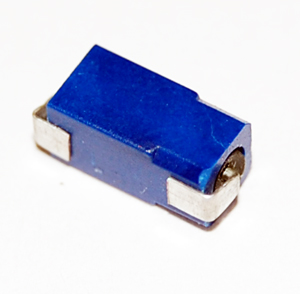 Kui tavaliselt paigaldatakse elektrolüütkondensaatorid plaadile vertikaalselt, siis see komponent on disainitud horisontaalpaigalduseks, mis omakorda võimaldab toote (trükkplaadi) kõrgust vähendada.
Lõigatud nurkadega kondensaatori ots markeerib`+ klemmi.
Tootel on ka markeering nagu näiteks:
kus tähendused on järgnevad:
Examples for CR; UR marking:
H22 tähista0,22 mikrofaradit H22 represents 0.22 µF; 63 V
2G2 tähistab 2,2 mikrofaradit 2G2 represents 2.2 µF; 40 V
22G tähistab 22 mikrofaradit 22C represents 22 µF; 6.3 V

Features:
- Polarized non-solid electrolyte, self healing
- Insulated rectangular case
- Miniaturized, high CV per unit
- Flexible terminals, reflow and wave solderable
- Charge and discharge proof

Capacitance: 0.1uF
Rated Voltage: 63V
Temperature Range: -40°C to 85°C
Rated RMS Ripple Current @ 100Hz 85°C: 6.0mA
Maximum Leakage Curent after 5min. @ UR: 3.1uA
Maximum Dissipation Factor @ 100Hz: 0.12
Maximum Impedance @ 10kHz: 55Ω

Dimensions:
Length: 8.8mm (0.346")
Width: 3.7mm (0.146")
Height: 3.9mm (0.154")

Applications:
- Boards with restricted mounting height
- General applications, consumer electronics, low profile and lightweight equipment
- Decoupling, smoothing, filtering and buffering

Manufactured by: BC Components
Part Number: 2222 085 68108
Pakendatud 2000 tk rullis.
Tantaal Elektrolüüt kondensaatorid
Terav ots pildil all paremal on + klemmiks sellel elktrolüütkondensaatoril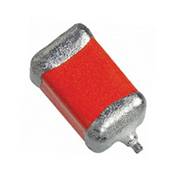 http://www.westfloridacomponents.com/mm5/graphics/F02/595D476X9016C2T.pdf
Surface Mount Tantalum Capacitors
Case Size C
Dimensions:
- Length:
- Width:
- Height:

Technical Specifications:
Operating Temperature: -55°C to 85°C
- With Derating to 125°C
Capacitance: 47.0uF
Voltage:
- @ 85°C: 16.0V
- @125°C: 10.0V
Tolerance: 10%
Max. DC Leakage @ 25°C: 7.5uA
Max. Dissipation Factor @ 25°C, 120 Hz: 6%
Max. ESR @ 25°C, 100 kHz: 0.28 ohm
Max. Ripple @ 100 kHz: 0.63A

Manufactured by: Vishay
Part Number: 595D476X9016C2T
FEATURES
• Large capacitance rating range
• Terminations: 100 % Tin (2) standard
• 8 mm, 12 mm tape and reel packaging available
per EIA 481-1 and reeling per IEC 286-3. 7"
[178 mm] standard. 13" [330 mm] available.
• Case code compatibility with EIA 535BAAC and
CECC30801 molded chips
• Compliant to RoHS directive 2002/95/EC
PERFORMANCE CHARACTERISTICS
Operating Temperature: - 55 °C to + 85 °C
(To + 125 °C with voltage derating)
Note
• Refer to Doc. 40088
Capacitance Range: 0.1 µF to 1500 µF
Capacitance Tolerance: ± 10 %, ± 20 % standard
Voltage Rating: 4 WVDC to 50 WVDC
TRIMMER on reguleeritava mahtuvusega kondensaator.
Ka trimmerid on SMD tehnoloogias saadaval.
2.5pF-6pF Surface Mount Trimmer Capacitor GKY6R066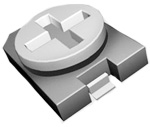 Foto ja tehnilised parameetrid aadressilt: http://www.westfloridacomponents.com/mm5/graphics/ds7/GKY6R066.pdf
SMT Ceramic Trim Capacitors
GKY Series
3.2 x 4.5 x 1.8 mm
Color: Blue
Designed for reflow soldering

Specs:
2.5pf min ; 6.0pF max.
TCC: 0 ± 300ppm/°C
Voltage Rating: 100Vdc
Dielectric Withstanding Voltage: 220Vdc
Insulation Resistance: 10^4 Megohms min.
Torque: 10 to 150 gr-cm (0.14 to 2.08 oz-in)
Operating Temperature: -25°C to 85°C

Manufactured by: Sprague-Goodman
Part Number: GKY6R066
2pF - 7pF Trimmer Capacitor Ceramic TZ03Z070FR169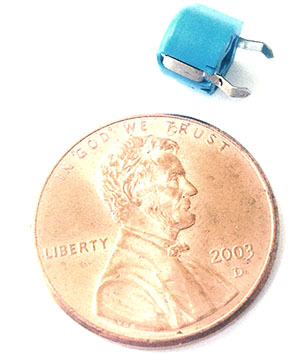 Manufacturer: Murata
Part Number: TZ03Z070FR169
Capacitance (uF): 2pF-7pF
Lead/Terminal Type: Radial
Number Leads/Terminals: 2
Material: Ceramic

Trimmer Capacitors
2pF (min) - 7pF (max)
Working Voltage: 100VDC
Temp Range: -55° - +85°C
Temp Coefficient: NPO +/- 200
2.5pF - 6pF SMT Trimmer Capacitor TZV02Z060A110
Tõeliselt väike SMD trimmer 2.3 x 3.2 x 1.45 mm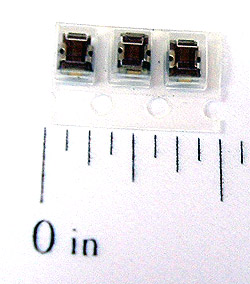 http://www.westfloridacomponents.com/TC015/2.5pF+-+6pF+SMT+Trimmer+Capacitor+TZV02Z060A110.html
Manufacturer: Murata
Part Number: TZV02Z060A110
Capacitance (uF): 2.5pF-6pF
Lead/Terminal Type: Surface Mount

Surface Mount Trimmer Caps
Monolithic Construction
2.5pF - 6pF
Top Adjust
25VDC Series
Withstands Voltage up to 55VDC
Smallest size available: 2.3 x 3.2 x 1.45 mm

Kilekondensaatorid 4,8 x 3,3 x 1,4 mm
0.047uF .047uF 50V 5% SMT Film Chip Capacitor ECHU1H473JB9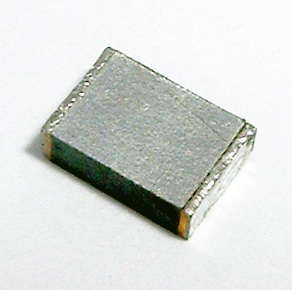 Foto ja tooteinfo: http://www.westfloridacomponents.com/mm5/graphics/K03/ECHU1H473JB9.pdf
Capacitance: 1.047uF
Rated Voltage: 50V
Tolerance: 5%
Temperature: 85°C

Dimensions:
Length: 4.8mm (0.19")
Width: 3.3mm (0.13")
Height: 1.4mm (0.06")

Recommended Applications:
Time constant
Filtering
Oscillation and resonance

Manufactured by: Panasonic
Part number: ECHU1H473JB9